By Tina Weber, Heidi Kayler, and Lisa Haynes (VOICE)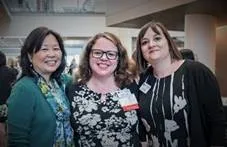 Volunteers of Issaquah Changing Education (VOICE) is a school-based mentor program which serves all 24 schools in the Issaquah School District. It started in 2004 as a small pilot program and, 15 years later, has blossomed into a robust program that serves close to 350 students in all grades and in every school in the district.
VOICE, which is managed by a team of three, supports students who are in need of social, emotional or academic support and facilitates meaningful connections between caring community members and students who need that extra assistance. VOICE mentors meet with mentees up to one hour a week throughout the school year. Many mentorships continue for several years.
VOICE is a program of the Issaquah Schools Foundation and partners closely with the Issaquah School District.
Like other mentor programs, school-based mentor programs have their own unique sets of challenges and rewards. Over the years, VOICE has developed an infrastructure that enables the program to run smoothly, while keeping a laser-sharp focus on helping students succeed.
According to the National Mentoring Partnership, we know that students who are mentored are less likely to skip school or use drugs, and are more likely to enroll in college, participate in extracurricular activities, volunteer, step into leadership roles, and become a mentor themselves. We are so pleased to be able to facilitate that success in the Issaquah School District!
What has helped the program be successful?
First and foremost, VOICE doesn't waver from our commitment to ensuring that students who are experiencing challenges get the support they need. This commitment informs everything we do: from mentor recruitment and training to evaluation, supporting our site coordinators, and continuously seeking to improve and integrate best practices into the program.
Next, we have strong support from the Issaquah Schools Foundation and the Issaquah School District. They treat VOICE as a priority and allocate resources and support to help the program succeed.
We collaborate with multiple stakeholders. We see the value of partnership in all entities of our community (i.e., the Foundation's Cultural Bridges Program, community-based organizations, corporate partners, and our peers in mentoring).
We work to ensure that our mentors are supported and receive ongoing opportunities for training, coaching, sharing with one another, and basking in our appreciation! To that end, we hold multiple events a year.
While we're always seeking to improve the program, there are a few areas that we are focusing on based on lessons learned as well as looking towards future growth. They are:
Increasing the number and diversity of our mentors.
Continuing to support and encourage our site coordinators (our "hubs" in the schools) so they can facilitate and manage matches in a timely way.
Navigating the nuances of managing mentor "fit" with the program.
In closing, VOICE has come a long way over the years and has served over 1,000 kids since its inception. We look forward to helping kids succeed in the years ahead!