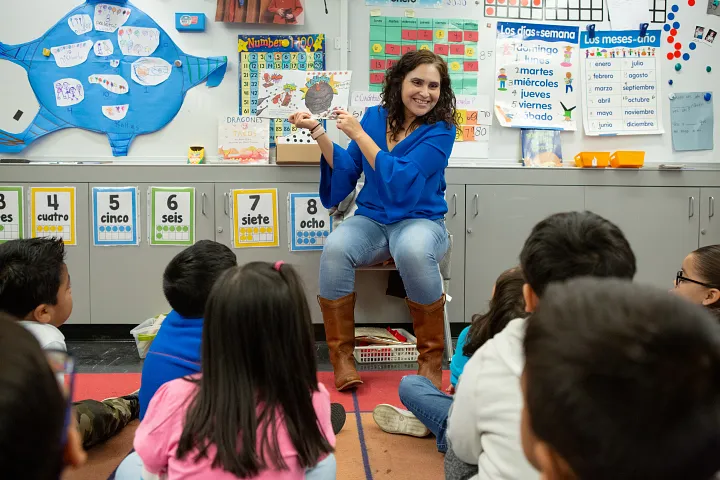 Every child has the right to learn to read and write. In Washington, educators are increasing their efforts to support early literacy for all students and identify students in need of additional support.
With support from the Office of Superintendent of Public Instruction (OSPI) and partners, Washington educators are screening students in kindergarten through second grade for indications of dyslexia. Educators then provide instructional support that best addresses each student's identified areas of needed support.
Screening and intervening are elements of the Multi-Tiered Systems of Support (MTSS) framework. MTSS also includes regular progress monitoring and communication within and among teams comprised of school district staff and students' families.
"MTSS is a prevention-based framework that places student needs at the center of flexible systems and supports," said Rebecca Estock, MTSS Program Implementation Supervisor at OSPI. "A well-implemented MTSS system reflects the needs of the students and empowers educators in preventing and responding to the academic and social-emotional needs of all learners."
OSPI recently published updated guidance for screening for indications of dyslexia, a neurological difference in the brain characterized by challenges with reading and spelling. The updated guidance includes a renewed focus on MTSS.
To implement an MTSS framework, the updated guidance recommends establishing teams across school districts and within schools that also engage families and community partners in problem-solving. Team communication and planning leads to better identification of student needs and implementation of relevant and impactful interventions.
The updated guidance names three necessary steps for using the MTSS framework to support student literacy development: screen, intervene, and communicate.
Screeners, which are brief and standardized assessments of specific skills, determine a student's level of knowledge and awareness of concepts like the sounds of spoken words and letters. If a student's screener data shows that they are not meeting expectations for their grade level, the school must provide appropriate interventions to support the student's needs. Throughout the process, schools are expected to communicate regularly with families.
All interventions must be aligned with and layered onto universal instruction, which is the education that all students receive. For students in kindergarten through second grade learning to read and write, interventions should be based in structured literacy, an evidence-based teaching approach informed by the science of reading.
The science of reading looks at research from fields including psychology, neuroscience, linguistics, and education to inform how children learn to read and write, as well as why some have difficulties. Practices aligned with the science of reading link sounds to letters to read words, and later weave these abilities with students' understanding of language, content, and text structures.
Structured literacy instruction "ensures that all students gain the skills they need to read independently and the background knowledge and vocabulary to understand what they read," said Dr. Alicia Roberts Frank, Regional Administrator for Special Programs at Capital Region Educational Service District 113.
In classroom instruction, structured literacy is characterized by high levels of teacher-student interaction; instruction that starts with simpler phonics concepts and leads to more complex patterns; engaging multiple senses and ways of interacting with language; and adjustments based on data from assessments and student needs.
"Structured literacy is not a packaged program, nor is it one-size-fits-all," Roberts Frank said. "Structured literacy instruction enables teachers to understand all their learners' literacy development needs and provide them with appropriate instruction and supports."
Along with implementing an MTSS framework for literacy instruction, the updated guidance clarifies that all students in kindergarten through second grade classrooms must be screened annually for indications of dyslexia — including students with Individualized Education Plans (IEPs) and students who are multilingual/English learners.
Students with disabilities "should access the same continuum of services provided to all" students in Washington's schools, said Dr. Liz Stewart, Special Education Program Improvement Supervisor at OSPI.
For students who are multilingual/English learners, the updated guidance notes that the results of these students' screeners should not be directly compared to grade-level norms and that students may be screened in a language other than English. The updated guidance also indicates that students who are multilingual/English learners should not be included in literacy screeners during their first four months of U.S. schooling.
"We need to keep in mind that benchmarks may not always apply as students are still developing their language skills and that students in their first four months of U.S. schooling need time to adjust to their new environment before being assessed," said Dr. Kristin Percy-Calaff, Director of Multilingual Education at OSPI.
OSPI is continually developing guidance and resources to support educators and schools in implementing evidence-based practices that support early literacy. Be sure to follow us on social media for updates and resources.
For More Information
This story was written by Chelsea Embree, Communications Strategist at OSPI. You can contact the Communications Team at commteam@k12.wa.us.