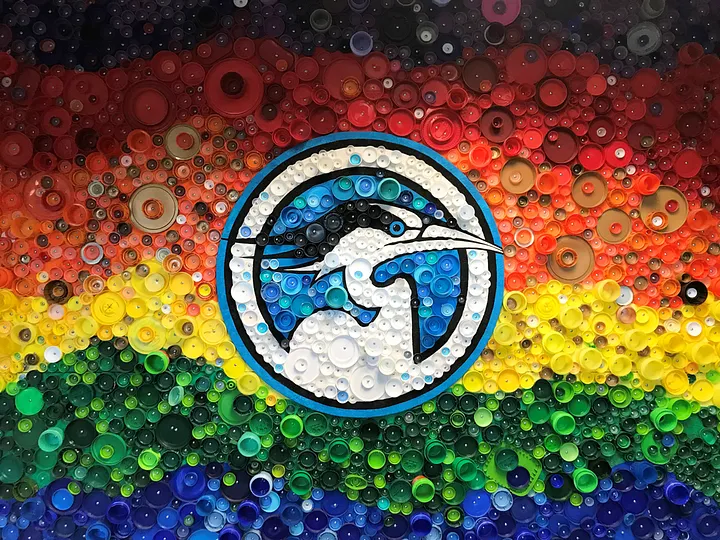 Schools had a chance to show off student artwork made with recycled bottle caps, "green wall" vertical gardens, and propane buses as the Department of Education's Green Strides tour came to Washington.
Educators, administrators, school board members, parents, and other school stakeholders gathered to kick off the tour, which visited six public districts and two private schools at the end of October.
Washington state was chosen for this year's tour due to its strong school and district examples of the three pillars of the US Department of Education's Green Ribbon Schools program: environmental sustainability, health and wellness, and environmental education, and their integration of those pillars into their daily routines.
On the propane bus between two schools, Oak Harbor School District Superintendent Lance Gibbon described district actions improving the health and well-being of students and staff while supporting environmental sustainability. This list included refillable water bottle stations, LED lighting retrofits, school gardens that engage students in tasting new fruits and vegetables, composting systems to reduce food waste… the list went on!
The bus buzzed with excitement. A tour participant turned, wide-eyed, to me. "I'm so impressed. I had no idea school districts were doing these things! I'm going to share this when I get back to my district!"
At each stop, visitors saw inspiring examples of leadership and community partnerships at the school and district level. Tour participants learned about ways that districts are caring for the physical and emotional health of students. At the Bethel School District, a central kitchen cooks from scratch to provide nutritious meals that kids love to eat. A growing dual credit program is helping students graduate from high school with Associate degrees in place. The district partners with community organizations to make medical and dental clinics more accessible. Lack of public transit and sidewalks create barriers for families to access medical services, so space is provided on campus for organizations to provide the care to students.
"If they can't get to the dentist or doctor, we will help bring the doctors and dentists to them," said Superintendent Tom Seigel.
At Carnation Elementary, a full-time counselor provides students with support to build problem-solving and emotional regulation skills.
Partnerships with community-based organizations and the local tribe build a strong sense of togetherness among the school and its extended community. We learned about a partnership with the Snoqualmie tribe. "The People of the Moon," as teacher Ms. Elizabeth Wing taught us — to restore salmon habitat in the local stream. This work supports the health of the salmon that students raise from eggs and release into the stream.
Throughout the tour, we heard from students, teachers, and leaders who find that using the outdoors as a teaching tool improves student engagement in learning across content areas. Eatonville schools had three outstanding examples. At Weyerhauser Elementary, Mr. A told us, "Art is nature, and nature is art." Fourth grade students from Eatonville elementary demonstrated their stream health testing protocols and presented the results of their stream study. Their presentation highlighted how math and numeracy skills are essential to scientific investigation, and the importance of English language arts in building a presentation and communicating information to an audience. At Columbia Crest A-STEM Academy, students told us that they are learning self-reliance and personal responsibility through their work in the school garden.
Issaquah School District, Lake Washington School District, and Bethel School District highlighted newer high-performance school buildings built to reduce utility costs and environmental impact, saving districts money over the lifetime of the building. These schools bring the outdoors in through natural lighting and views of the outdoors.
In Issaquah, we learned about students who are removing invasive plant species, planting native plants, and building trails in the forest behind their school that are used as outdoor learning labs. Students study living in harmony with large predators, in a curriculum that is taught in partnership with the Woodland Park Zoo.
The Bertschi School highlighted the first school in the world to meet the standards required by the Living Building challenge. At the Northwest School, participants learned about the high-performance features of their newest building, including solar tubes that preheat hot water using energy from the sun.
These only scratch the surface of each featured schools' accomplishments. There is much more to be learned from the honoree of the program. The tour was so inspiring that OSPI hopes to offer something similar annually.
Schools & districts visited by the Department of Education during the 2019 Green Strides Tour:
Oak Harbor Public Schools
Lake Washington School District
Bethel School District
Eatonville School District
Issaquah School District
Carnation Elementary in the Riverview District
The Bertschi School
The Northwest School